Turnkey VW performance 1916cc engine
Our turnkey 1916 cc Type 1 performance engine comes in variants from 120hp to 156+hp. The base 120hp model is shown here. This is a complete turnkey engine, ready to be installed and started in your VW for an instant upgrade in power and reliability.
This engine is an upgraded replacement for the Beetle, Kombi, Karmann Ghia, VW Trike, VW thing, VW Country Buggy. All cooling tinware and accessories shown in the picture below are included with this engine.
We can install this engine into your VW and dyno tune here at WPVW or, for our valued long distance customers, we can dyno tune the engine and ship to your location, ready for it to be fitted and enjoyed.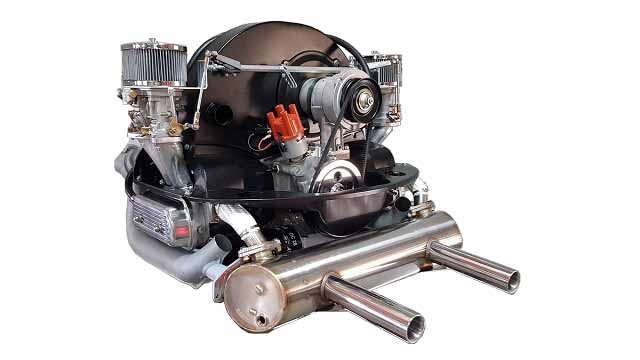 Our 1916cc turnkey engine is a very popular choice for customers wishing to upgrade their standard Type 1 engine for a substantial performance increase. This engine will provide approximately a +130% power increase over a standard 1600 cc engine.
Specifications
| | |
| --- | --- |
| Capacity | 1916cc |
| Pistons | 94mm forged |
| Crankshaft | 69mm counter-weighted |
| Camshaft | Engle Performance |
| Cylinder heads | CB Performance, 40mm x 36mm valves |
| Compression Ratio | 8.7:1 |
| Carburettors | Dual 40mm HPMX |
| Exhaust | Vintage speed to suit application |
Engine internal balancing is included with this engine.
Power & Torque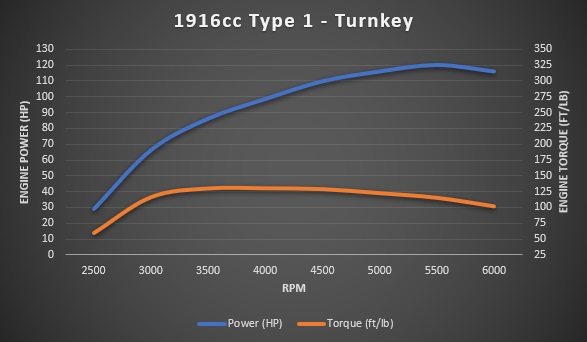 This graph shows the power and torque of the base 120hp engine.
Please contact us to enquire about higher performance variants of this engine.
If you would like even more power, ask us about our turbocharging and Haltech fuel injection upgrades!
How to Buy
To order a turnkey engine for your VW, please

Or come and see us at