The Torque Monster - 2733cc VW Type 4
Introducing the flagship of WPVW Street engines. Dubbed the "Torque Monster", this engine is a Type 4 VW engine that produces 206hp and 197ft-lb torque in its street form.
Camshaft, compression, intake, heads and exhaust can all be modified for increased high end power or low end torque as desired. As an example, Wayne's Karmann Ghia featured our 2733 cc engine optimised for street/strip and this produced 225hp on 98 octane fuel.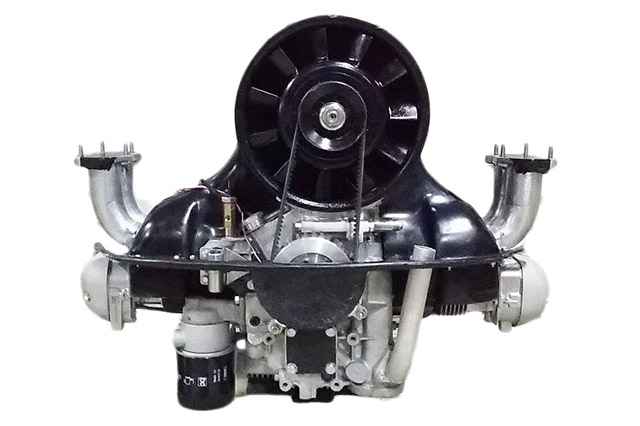 In street form, the engine torque comes on strong at 2500rpm and power still climbs through 6000rpm for an incredible street driving experience. This engine will provide approximately a +290% power increase over a standard 1600 cc engine.
Specifications
| | |
| --- | --- |
| Capacity | 2733cc |
| Bore | 103mm |
| Stroke | 82mm |
| Carburettors | 44mm IDF Webers |
| Compression Ratio | 8.7:1 |
| Cylinder heads | VW Type-4 ported, polished, upgraded valve size |
| Camshaft | To suit application |
Power & Torque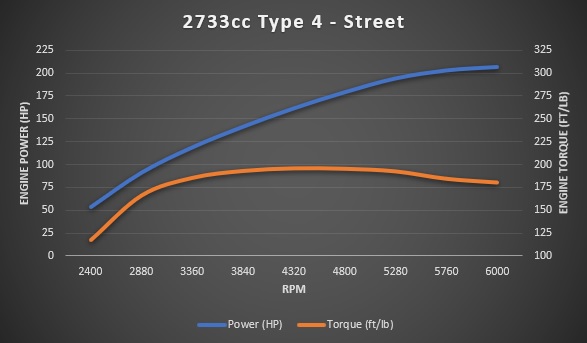 This power run was stopped at 6000rpm with the power curve stil climbing through 206hp!
When purchasing this engine, we also recommend our transmission upgrade. This will upgrade the strength of the gearbox and we can optimise the gear ratio's for better freeway cruising and long term reliability.
If you would like even more power, ask us about our turbocharging and Haltech fuel injection upgrades! We were crazy enough to perform these upgrades to this already powerful engine and the result is our "Ultimate VW Street Engine"
How does it sound?
How does it go?
See how easily Wayne's Karmann Ghia spins the tyres when launching in 2nd gear!!
How to Buy
If you are ready for the ultimate VW performance street engine, please

Or come and see us at